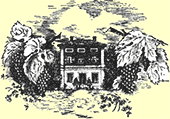 Casarossa is a bed and breakfast country house in an organic farm situated on a picturesque vineyard in the countryside surrounding Piacenza – a city in the north of Italy.
The nearby River Trebbia carves its way through the Trebbia valley between the rolling Piacenzian hills. This awe inspiring Italian landscape and the equisite castles and villages spread throughout it provide many opportunities for walking, golf, sightseeing, swimming or simply relaxing.
Accomodation is provided in the elegant rooms of Casarossa which look out on to fields and vineyards of the farm, and guests are always warmly welcomed.